Atmon FL URBAN II
Standalone, mobile measuring system for gaseous and particulate air pollutants.
ATMON FL is an independent mobile measurement system for gaseous and powdery air pollutants in forced mode. It is designed to be carried by unmanned aerial vehicles BSP (UAV - Drones), dedicated to installation on Yuneec H520 drone.

ATMON FL URBAN II is a ready-made kit dedicated to measuring air quality in the range:
Carbon monoxide CO
Sulphur dioxide SO2
Substance complex RI
Substance complex AQ
PM10 suspended dust
PM2.5 particulate matter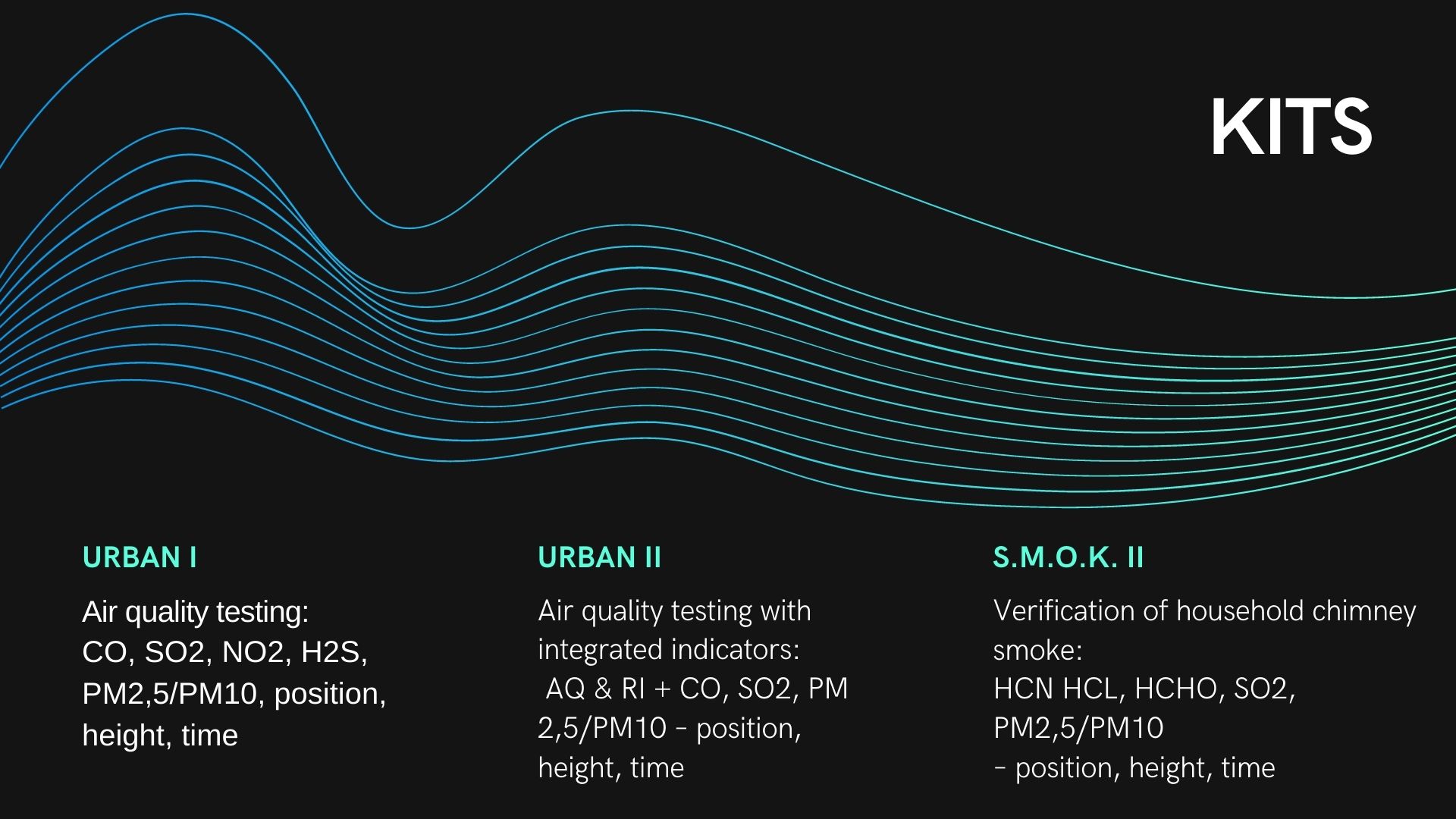 Application

measurement and evaluation of air pollutants and air quality indexes

identification of sources of low stack pollution

environmental control in rescue operations

 

Operating mode

VLOS – operation within Visual Line Of Sight

BVLOS – autonomous operation

PB – mounted on the UAV's casing

HG – suspended under the UAV

Communication

Range of data transmission to operator's PC through a local link: up to 1600 m

GSM(GPRS) data transmission to a cloud server- optional

 

Geographical psitioning

GPS, Glonass, Galileo

accuracy +/-2,5 m

reciever gain -167 dBc

Sturdy design

ready to work in harsh environment

resistant to dust and moisture

 

Measurements

measurements in forced mode

the RI and AQ indexes facilitate air quality measurements and location of pollution sources in an urbanized area.
Technical Parameters



| | | | | |
| --- | --- | --- | --- | --- |
| MEASURED SUBSTANCE | MEASUREMENT UNIT | MEASUREMENT RANGE | ACCURACY | RESOLUTION |
| Carbon monoxide (CO) | [ppm] | 0–1000 | 0,5 [ppm] | 0,1 [ppm] |
| Sulfur dioxide (SO2) | [ppm] | 0 – 20 | 0,02 [ppm] | 0,01 [ppm] |
| RI – Respiratory Irritants index | [ppm] | 0 - 20 | 0,02 [ppm] | 0,01 [ppm] |
| AQ – general Air Quality index | [ppm] | 0 - 100 | 0,05 [ppm] | 0,01 [ppm] |
| Particulate Matter PM10 | [μg/m3] | 0 – 999 | 15 μg/m3 | 1 μg/m3 |
| Particulate Matter PM2.5 | [μg/m3] | 0 – 999 | 15 μg/m3 | 1 μg/m3 |
Options for individual configuration of ATMON FL with any measured substances



ATMON-FL Air pollution analyzer (without media measurement modules)

ATM-FL-AQ indicator of general air quality AQ: 0-100 ppm; accuracy: 0,05 ppm; resolution: 0,01 ppm

ATM-FL-C2H6O C2H6O ethanol metering module: 0-500 ppm; accuracy: 0,3 ppm; resolution: 0,01 ppm

ATM-FL-Cl2 Chlorine measurement module Cl2: 0-5 ppm; accuracy: 0,02 ppm; resolution: 0,01 ppm

ATM-FL-CO Carbon monoxide measurement module CO: 0-1000 ppm; accuracy: 0,5 ppm; resolution: 0,1 ppm

ATM-FL-CO2 Carbon dioxide measuring module CO2: 0-5000 ppm; accuracy: 50 ppm; resolution: 1 ppm
ATM-FL-H2S Hydrogen sulfide measurement module H2S: 0-50 ppm; accuracy: 0,1 ppm; resolution: 0,01 ppm

ATM-FL-HCHO Formaldehyde measurement module HCHO: 0-5 ppm; accuracy: 0,1 ppm; resolution: 0,01 ppm

ATM-FL-HCL Hydrogen chloride measuring module HCL: 0-20 ppm; accuracy: 0,02 ppm; resolution: 0,01 ppm

ATM-FL-HCN Hydrogen cyanide measuring module HCN: 0-100 ppm; accuracy: 0,1 ppm; resolution: 0,01 ppm

ATM-FL-LZO Measurement module of volatile organic compounds VOC: 0-40 ppm; accuracy: 0,04 ppm; resolution: 0,01 ppm

ATM-FL-NH3 Ammonia measuring module NH3: 0-100 ppm; accuracy: 1 ppm; resolution: 0,01 ppm

ATM-FL-NO2 Nitrogen dioxide measurement module NO2: 0-5 ppm; accuracy: 0,02 ppm; resolution: 0,01 ppm

ATM-FL-NO Nitric oxide measurement module NO: 0-100 ppm; accuracy: 0,1 ppm; resolution: 0,01 ppm

ATM-FL-O3 Ozone measurement module O3: 0-2 ppm; accuracy: 0,02 ppm; resolution: 0,01 ppm

ATM-FL-PM Dust measurement module PM10 / PM2.5: 0-999 ug/m3; accuracy: 15 ug/m3; resolution: 1 ug/m3

ATM-FL-RI Irritating substances in the respiratory tract RI: 0-20 ppm; accuracy: 0,02 ppm; resolution: 0,01 ppm

ATM-FL-SO2 Sulfur dioxide measurement module SO2: 0-20 ppm; accuracy: 0,02 ppm; resolution: 0,01 ppm

Set include:
measuring modules CO, SO2, RI, AQ, PM10, PM2.5

the set does not include a drone and camera shown in the pictures
Specification
POWER SUPPLY

Lithium-Polymer battery, 1S

FULL CHARGING TIME

~2,5h

SAMPLE COLLECTION

Forced, electric

REACTION TIME

< 30 s

ATMON BATTERY LIFE H520 UAV

< 5 h on single charge


ATMON FLIGHT TIME

~ 20 min

Max range

1600 m

WORK
ENVIRONMENT
HUMIDITY
TEMPERATURE
PRESSURE

20% – 95% RH




-20°C - + 50°C




800 mbar – 1150 mbar

DIMENSIONS

Ø of enclosure max 125 mm
OVERALL DEVICE HEIGHT max 115 mm

WEIGHT

< 300 g

AERODYNAMI ECNCLOSURE

HIPS – high impact polystyrene
INTRODUCTION to ATMON FL - gas/pollution detector for Yuneec H520/H520E drones
How to Configure and use ATMON FL - gas/pollution detector for Yuneec H520/H520E drones