This product is available in our stores
You can buy this product without placing an online order at one of our stores in your area. Check where the product is in stock.
Check availability
DRONETAG REMOTE ID DEVICE FOR H850-RTK / H520(E)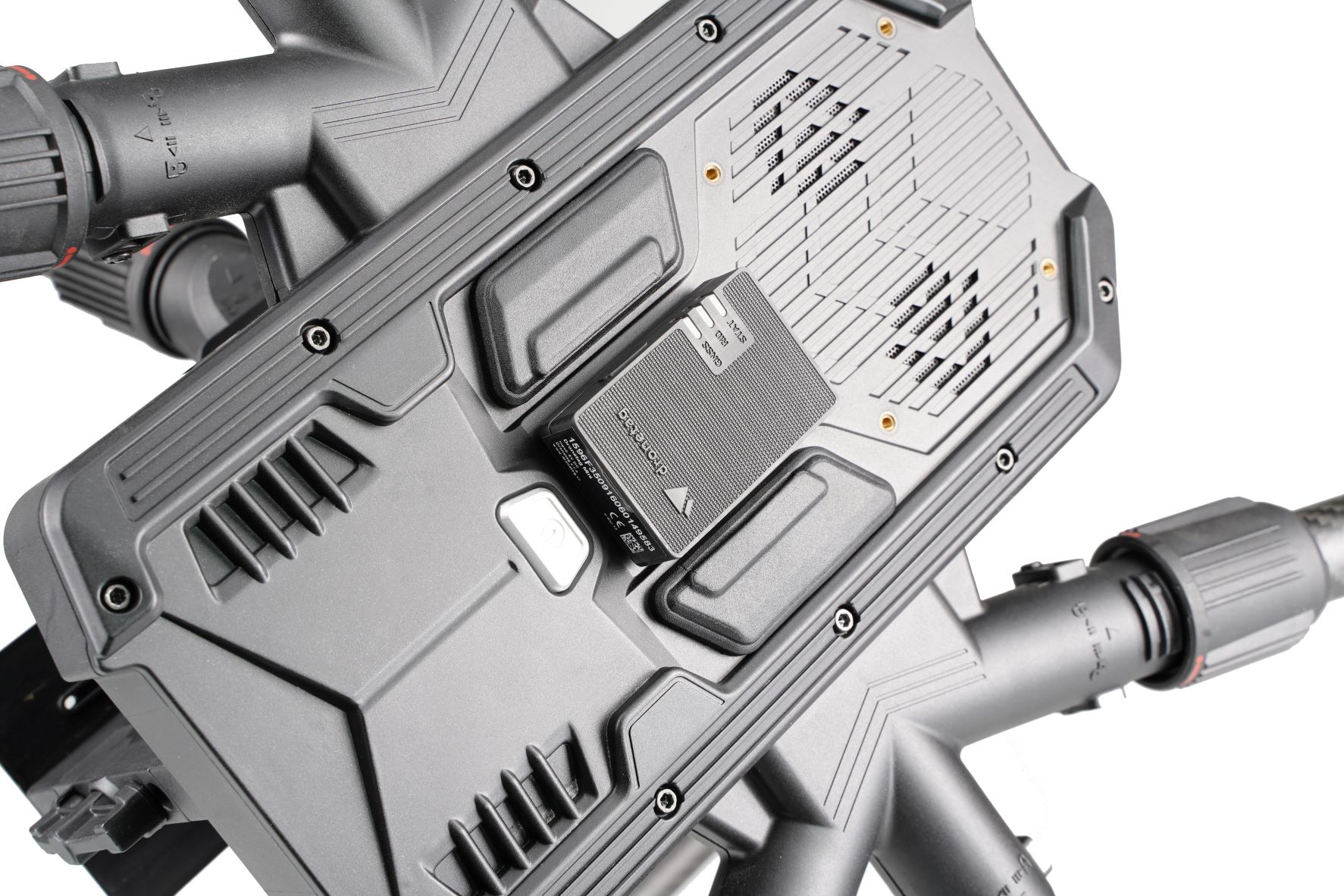 ___________
DRONETAG REMOTE ID FOR H850-RTK/H520(E)/TYPHOON-H.
Remote Identification (Remote ID), means that other parties are able to receive basic information about airborne drones digitally (in a similar way to general aviation).
The example data that Remote ID drones transmit wirelessly during flight is the operator's registration number, drone serial number and current position. 
The aim of Remote ID is to enable organised management of drone operations to ensure safe airspace. 
Today, if a pilot heads with his drone into a controlled perimeter around an airport, for example, it is not possible to contact him and warn him 
of the potential risk of collision with other aircraft - and this is one of the problems that Remote ID solves.
Network Remote Identification
Dronetag Mini for Yuneec H850/H520(E) and Typhoon-H transfers your drone's position and identification to the cloud. 
By displaying the real-time data in the app Dronetag enables coordination in the European U‑space.
Direct (Broadcast) Remote Identification
Your drone's information is transmitted via Bluetooth to up to 1.5 km (0.9 miles).
With Direct Remote ID, you fulfil all the new EASA regulation necessities which are mandatory from June 2023.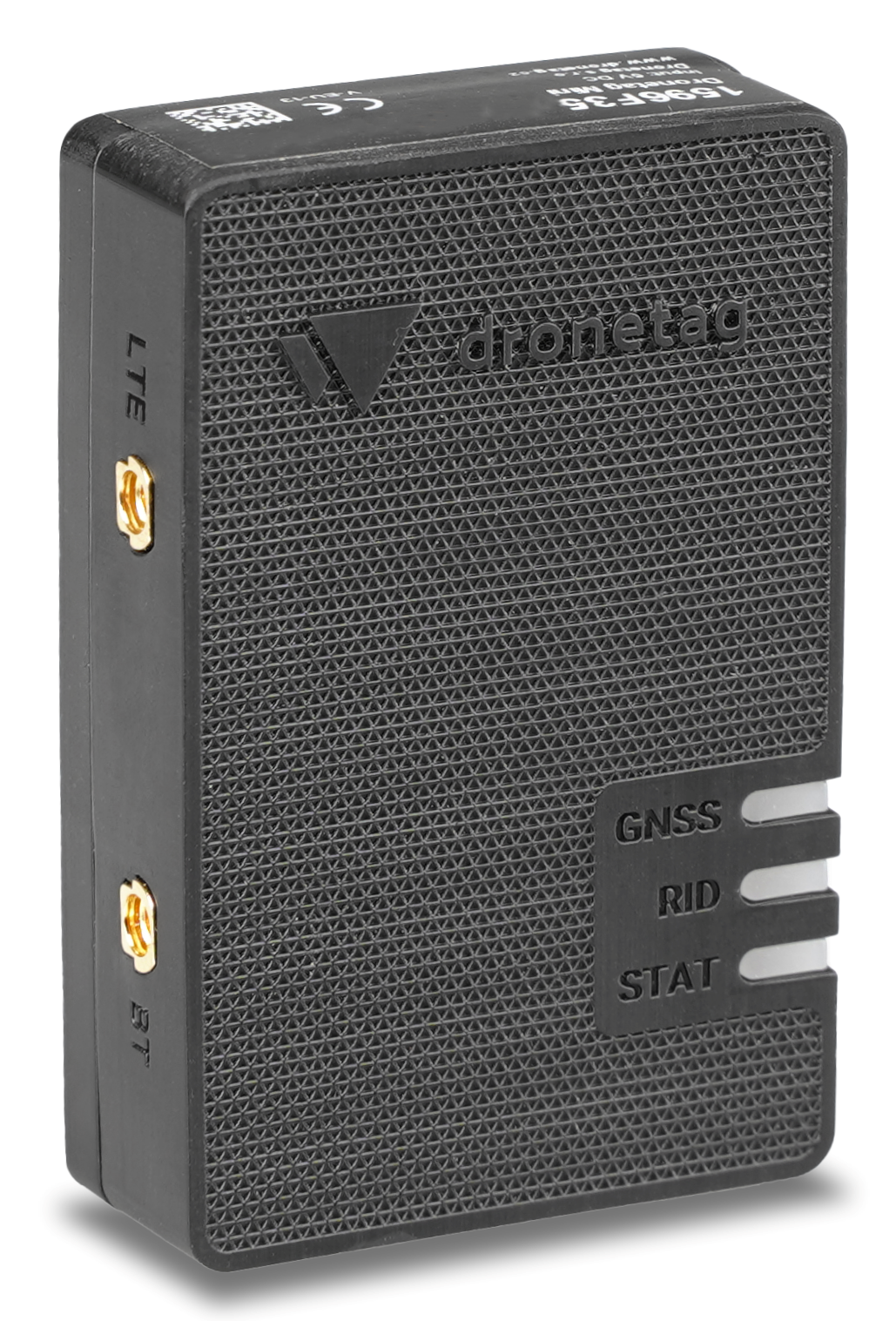 ___________
FEATURES.

Soldered chip SIM, firmware over-the-air updates, or DTLS encryption got you safe & secured.

Compliant with Direct & Network Remote ID according to the prEN 4709-002 and ASTM F3411 Standards.

GNSS position estimation, pressure altitude measurement and motion detection via accelerometer.

Receiving signals from GPS, GLONASS, Galileo and SBAS for robust and reliable positioning.

With the option to add external LTE and Bluetooth antennas for better signal reception.

Worry-free flights start and end. MiniTag warns other closed-by pilots about potential dangers.

MAVlink and Pixhawk flight controllers integration via the EXT port to get onboard data.

Yuneec serial number for warranty identification.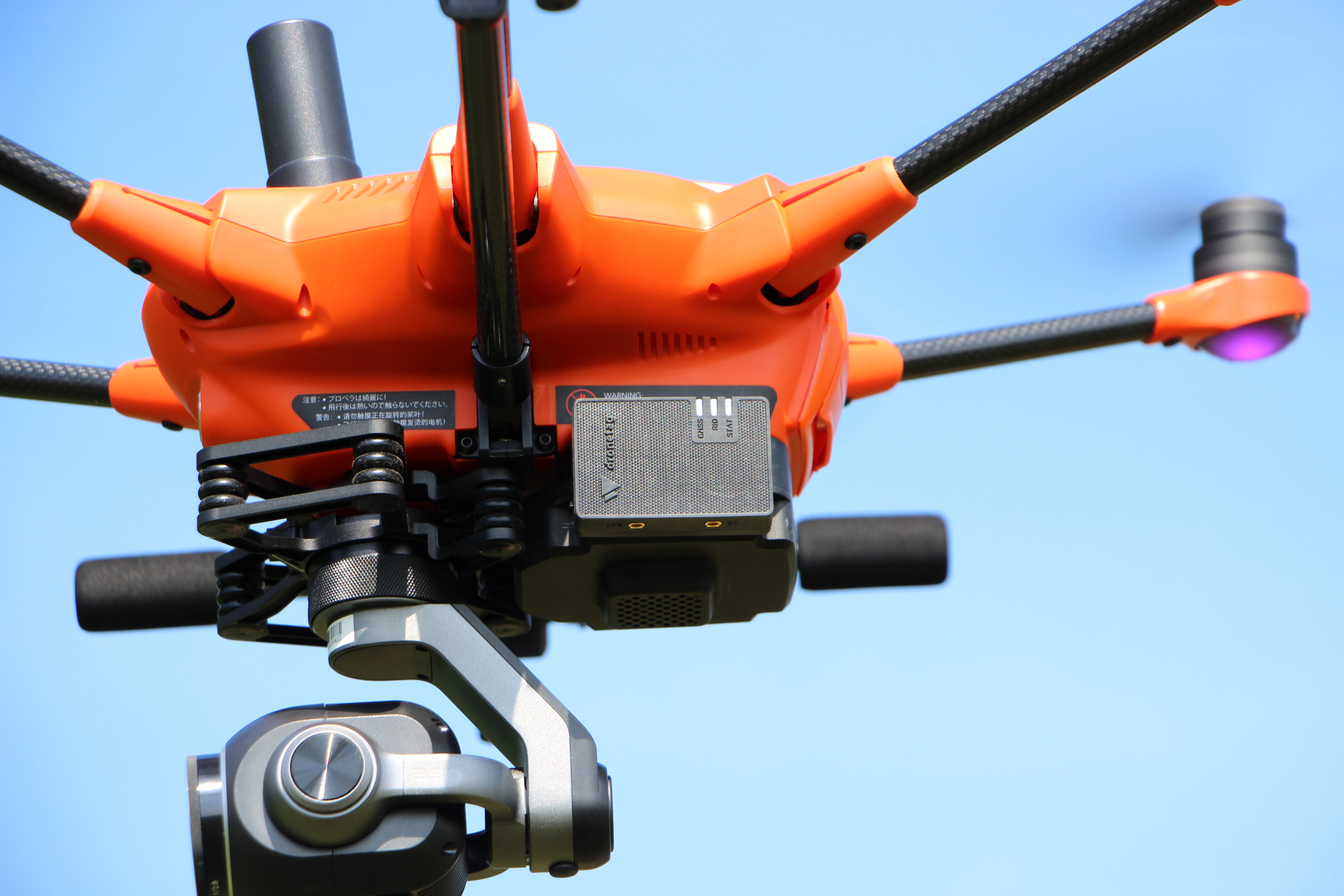 ___________
SPECIFICATIONS

Cellular: LTE-M and Narrowband IoT (NB-IoT)

Cellular bands: 3, 8, 20 for the EU and 2, 4, 12 for the US

Short-range radio: Bluetooth 2.4GHz

Sensors: GNSS, barometer, accelerometer

Positioning: GPS L1, GLONASS L1, Galileo E1, SBAS

SIM card chip: SIM soldered on the mainboard

Built-in Antennas Internal: LTE, Bluetooth and GNSS

Optional Antennas External: LTE and Bluetooth via MMCX plugs

External ports:3.3V extension connector and 5V Micro USB

Battery: LiPo 3.7V 500 mAh

Battery life: 8-14 hours (depending on the configuration)

Charging: 5V Micro USB

Charging time: 2 hours from a discharged state

Average current consumption: 50mA

Maximum current consumption: 1A

IP rating: IP43

Operating temperature: -5°C to +40°C (23°F to 104°F)

Dimensions: 54x35x15 mm (2.1x1.3x0.6 in)

Weight: 32 grams (1.1 oz)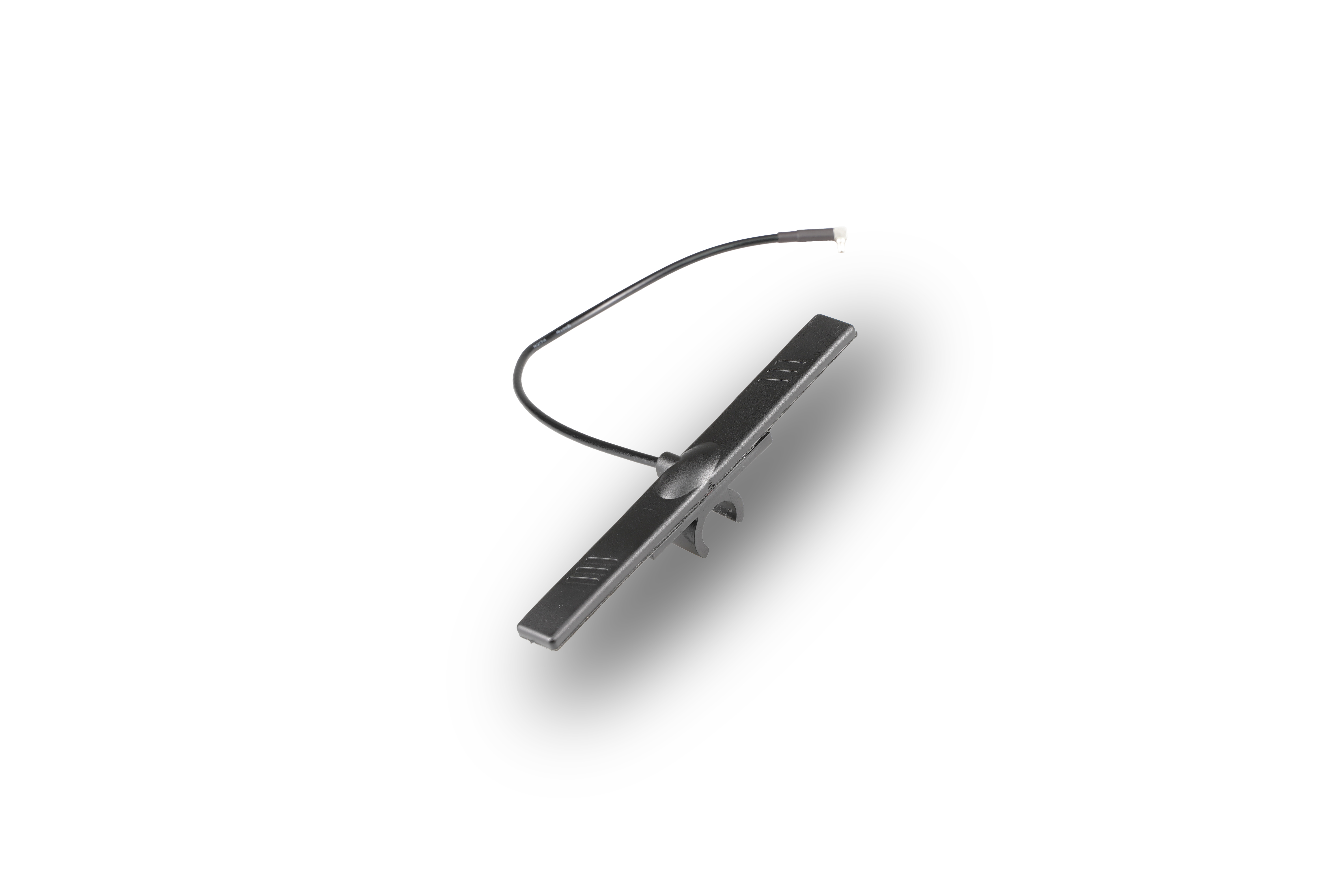 ___________
APLIKACJA DRONETAG APP
A mobile app for efficient flight management that will soon be available for both Android and iOS.
The app will enable pilots to visualise flight zones, plan their flights, including official authorisation, and to keep an interactive flight journal for an unlimited number of drones.
What is more, the app will be connected to other air traffic management systems so that you can see all other entities in the airspace and receive notifications from air traffic controllers.




Dronetag Mini & App - subscription plans
Free
Broadcast Direct Remote ID from Dronetag device

Receive Direct Remote ID traffic

View Network Remote ID drones

Inspect airspace zones
Basic
All Free Features +
20 Network Remote ID flight hours per month

12-month flight data retention

Real-time drone tracking & flight data

Fight planning

Airspace notifications

User API access

Flight controllers integration *
First 6 months for free with the purchase of a Dronetag device
Then 10,00€ per month if billed annually (15,00EUR otherwise).
Additional 50 Network Remote ID flight hours can be bought for 10,00€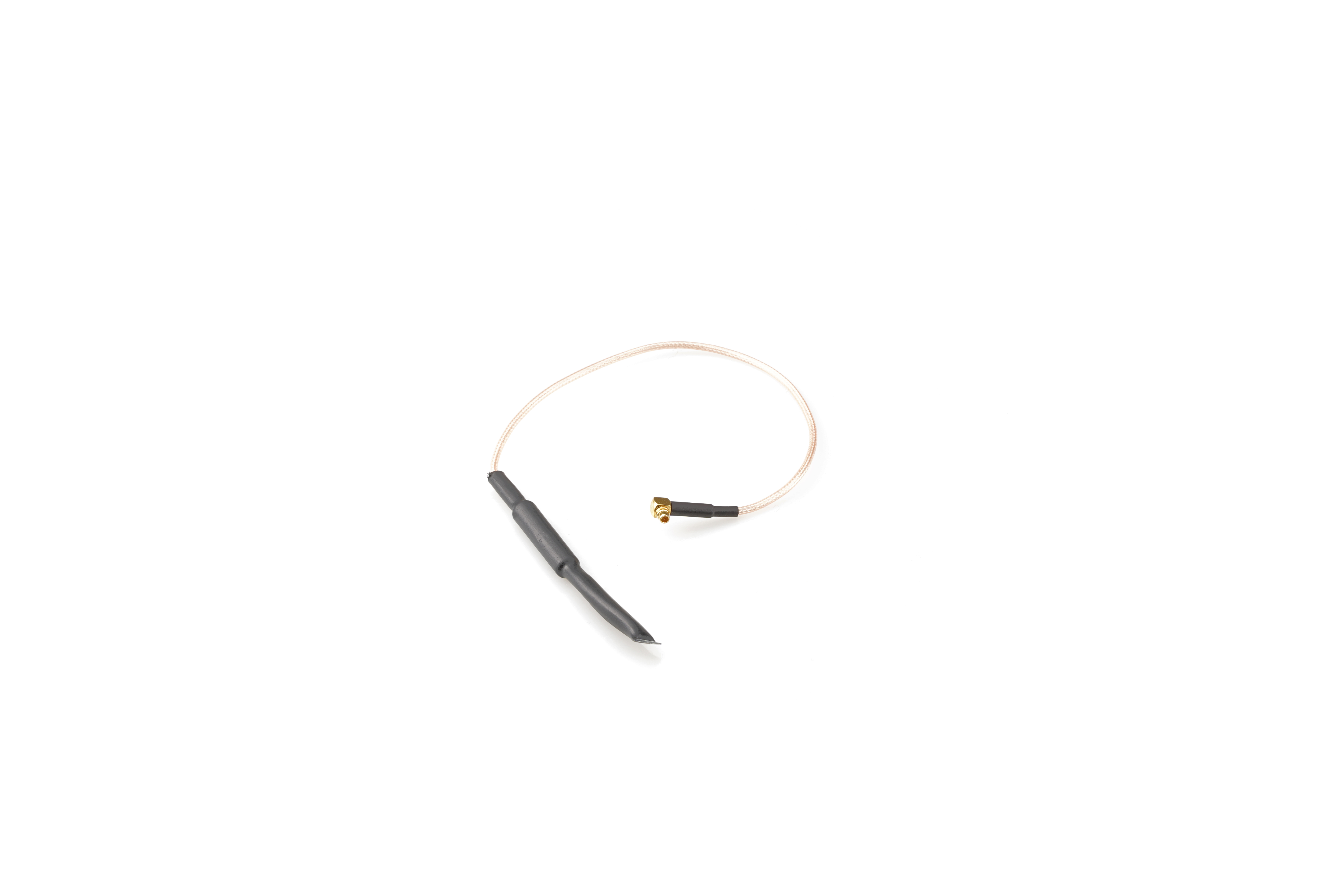 ___________
BOX CONTENT
1 × Dronetag Mini

1 × Micro USB cable

1 × Firmware recovery dongle

2 × Dual Lock counterpart for drone

1 × Alcohol cleaning pad

1 × Quick start guide

Optional External Antenna(s)
We recommend
Yuneec H850-RTK drone
Yuneec H520E RTK drone
Yuneec H520E drone