Informacje o produkcie "Zestaw Dron z termowizją H520E +

E20Tvx PRO

"
ZESTAW DO ZASTOSOWAŃ PROFESJONALNYCH
Hexacopter H520E został opracowany specjalnie do komercyjnych zastosowań dronów i zapewnia zespołom naziemnym SAR, inspektorom, policji, straży pożarnej i zespołom geodezyjnym wszechstronne narzędzie. H520E jest solidną, potężną i elastyczną platformą UAV, która może być idealnie dostosowana do indywidualnych wymagań, a tym samym umożliwia różnorodne zastosowania branżowe. Długi czas lotu i wysokiej jakości systemy kamer z wbudowanymi danymi GPS pozwalają na szybkie i precyzyjne rejestrowanie obszaru, podczas gdy wolny od zakłóceń precyzyjny kompas umożliwia latanie nawet w dotychczas trudnych do latania środowiskach. Oprócz wydajności i elastyczności, podczas opracowywania platformy duży nacisk położono na bezpieczeństwo lotu drona i danych.
NAJWAŻNIEJSZE CECHY
Nowy wydajny procesor kontroli lotu

Nowe złącze baterii z konstrukcją zabezpieczającą przed awarią

Nowy moduł OFDM o dużym zasięgu

Zaprojektowany z myślą o wymaganiach profesjonalnych, komercyjnych i rządowych

Kompas o wysokiej precyzji i niskim poziomie zakłóceń

Nowy 30 pinowy interfejs obciążenia użytkowego

Brak konieczności przesyłania danych do zewnętrznych serwerów

Stabilny i bezpieczny system 6 wirników

Energooszczędna i cicha praca

Kontroler ST16E ze zintegrowanym 7" wyświetlaczem dotykowym, wyjściem głosowym i wszechstronnym oprogramowaniem DataPilot™

Sygnał HDMI bezpośrednio z ST16E do wyświetlania obrazu na żywo z drona na większych monitorach

Planowanie misji na komputerze lub ST16E
Zawartość pudełka:
H520E Hexacopter z modułem OFDM

Kamera E20Tvx PRO

2 Baterie 4S-6200mAh

Ładowarka EU

Przewód ładujący 12v

Kontroler ST16E (ekran dotykowy)

1 bateria ST16E

Kabel USB do ładowania

Osłona przeciwsłoneczna Osłona ekranu

Pasek na szyję

Karta SD

Instrukcja obsługi

PLECAK GRATIS!
ROZWIĄZANIE TERMOWIZYJNE E20Tvx PRO DLA H520E&H850
Kamera E20Tvx PRO kamera E20TVX-PRO dla H520E & H850 pracuje w rozdzielczości 640x512 i może rejestrować danych temperaturowe w celu ich analizy i oceny ilościowej. Kamera RGB pracująca w świetle szczątkowym ma 20-krotnie wyższą czułość niż ludzkie oko i rejestruje wysokiej jakości obrazy, nawet w warunkach bardzo słabego oświetlenia. Jest mała, lekka i dzięki wysokiej czułości; jest niezawodnym narzędziem, które wyraźnie i szczegółowo rozpoznaje fotografowane obiekty.
W PEŁNI RADIOMETRYCZNY

Dzięki technologii radiometrycznej, E20Tvx może mierzyć temperaturę obszaru poprzez interpretację intensywności sygnału podczerwieni docierającego do kamery. Zbiera dane dla każdego piksela obrazu, które następnie można łatwo przesłać do standardowego oprogramowania w celu dalszej i dokładnej analizy oraz sporządzenia raportów. 
Główne cechy:
8x zoom cyfrowy

IPX4

Wysoka czułość dla wyraźnego i szczegółowego rozpoznawania celów.

Szczegółowy i precyzyjny pomiar temperatury dla każdego piksela.

Palety kolorów regulowane w zależności od wymagań zadania.

Regulowane tryby wzmocnienia w celu zmiany zakresu mierzonej temperatury.

Dokładna analiza po locie z wymiernymi danymi.

Odpowiednia do zadań związanych z inspekcją (budynków, paneli słonecznych i linii energetycznych), poszukiwaniem i ratownictwem, pożarnictwem i egzekwowaniem prawa.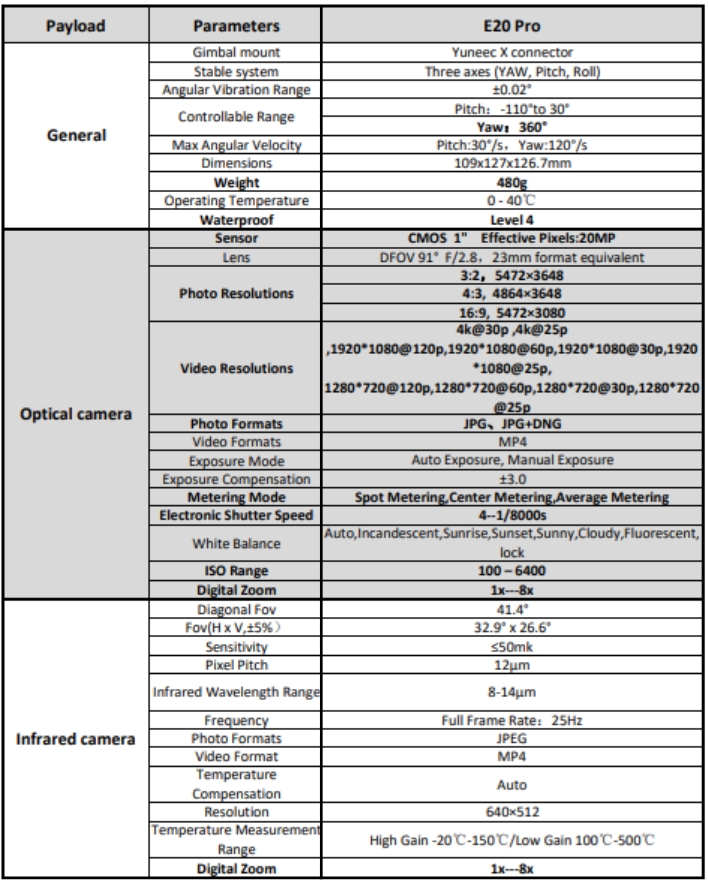 | | |
| --- | --- |
| DRON: | --------------- |
| Waga: | 1856g (bez kamery) |
| Maksymalny czas lotu:  | Do 25 min |
| Maks. Wysokość lotu: | 5000 metrów (MSL) |
| Bateria: | 4S 6200mAh Li Ion |
| Silniki: | 730kV |
| Długość przekątnej: | 520 mm |
| Max. Prędkość wznoszenia: | 4 m/s |
| Maks. Prędkość opadania: | 2,5 m/s |
| Temperatura pracy: | 0°C - 40°C |
| Temperatura przechowywania: | 10°C - 50°C |
| Czujnik: | Czujnik ultradźwiękowy |
| PILOT ZDALNEGO STEROWANIA: | --------------- |
| System operacyjny: | Android™ |
| Liczba kanałów: | 16 |
| Zasięg odległości transmisji (warunki optymalne): | 4km (Europa) / 6km (FCC) |
| Pasmo częstotliwości: | 2.4 GHz, 5.8 |
| Rozdzielczość łącza wideo: | HD 720p |
12 miesięcy - Warranty is granted by the seller for a period of 12 months.
12 miesięcy